Our Technology
We developed state-of-the-art technology to overcome industry challenges when delivering Overlay Ads and being able to accurately bill for them. Our technology is designed for syndicators and broadcasters who are looking for more revenue and new forms of advertising that weren't possible before.
These are just some of the common technologies and standards we support natively:
Video

MPEG-1
MPEG-2
MPEG-4
H.264
H.265
WebM
Ad Tracking

QR codes
Cookies
OTA Verification™
We take a holistic approach to ad delivery for both broadcasters and content syndicators. The infographic below summarizes our delivery process: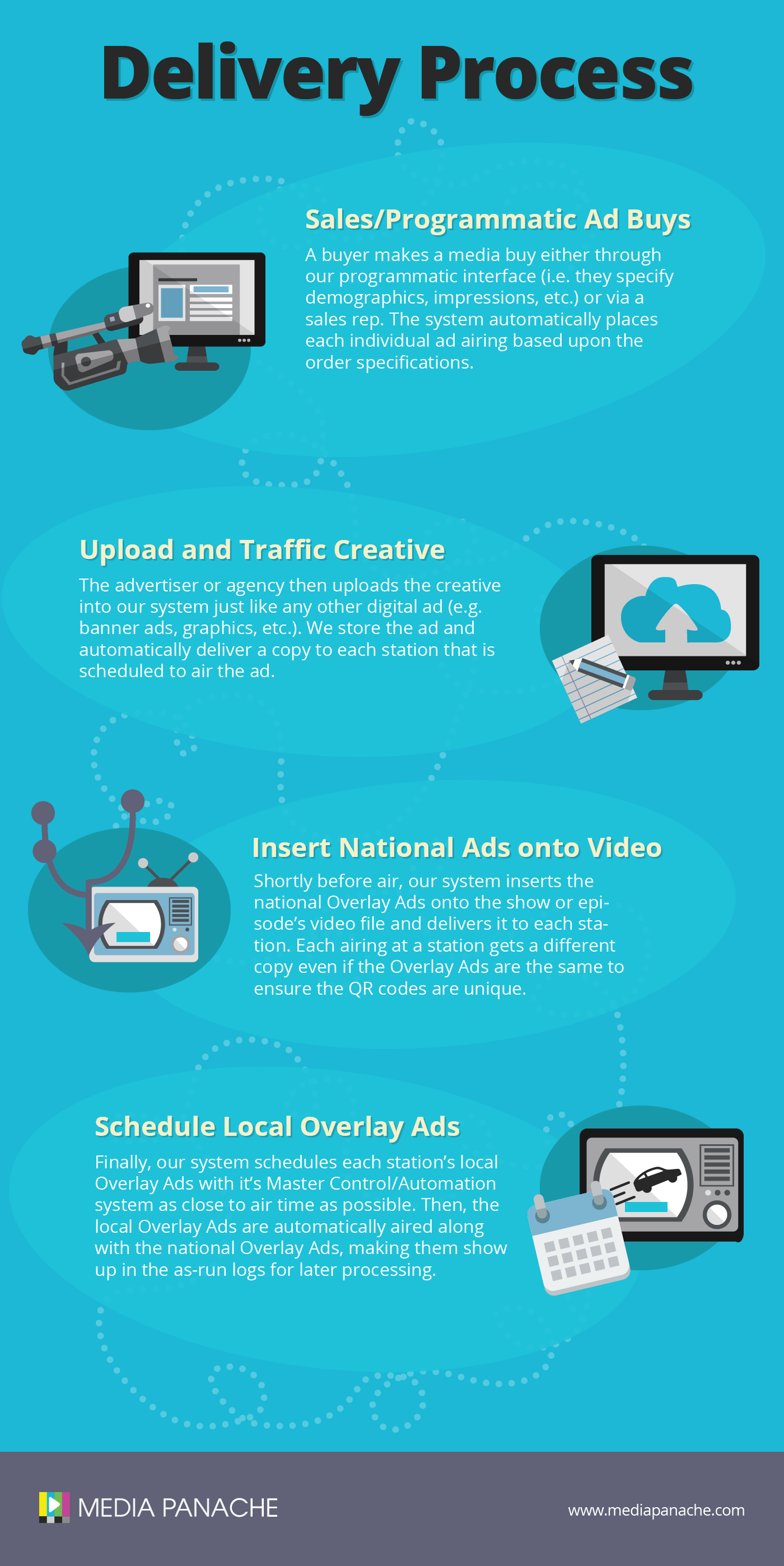 With our patented OTA Verification™ technology, we constantly monitor and record the ads over the air to verify they ran as scheduled. This serves as final verification that viewers actually saw the ad as well as a double-check against the as-run logs from the Master Control/Automation system.
Once we know the ads for a media buy ran as scheduled, we automatically generate invoices for them. We can also send a billing line for each ad to other traffic/billing systems if consolidated billing is desired. Our data includes a very specific description of each ad run so there are no discrepancies on the final bill. (No more 1-second virtual ads that need to be explained to the buyer.)
Through the use of QR codes, we are able to perfectly attribute consumer responses to the proper ad, including the exact airing on a specific station. This eliminates the guesswork of which ad a viewer responded to, even when DVRs are involved.
Enhanced Audience Impression Measurement
Through the use of on-TV technology, we measure exact impressions of our Overlay Ads, not just the responses. This allows us to more accurately estimate the total impression counts, far beyond current ratings systems such as Nielsen. Our measurement technology works on both ATSC 3.0 and ATSC 1.0 and enables further performance tracking and audience measurement.